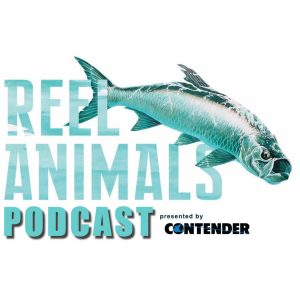 Capt. Michael Anderson has been fishing and competing in tournaments on Tampa Bay and Florida waters for over 20 years. Born and raised in central Wisconsin Capt. Mike joined the U.S. Air Force in 1986 and served almost 7 years before getting out and settling in the Tampa Bay area. He has been guiding on the west coast of Florida for over 18 years and specializes in back country fishing for Tarpon, Snook, Redfish and Trout.
On every episode of the Reel Animals Podcast, Captain Mike Anderson brings you a fishing conversation with someone in the fishing industry to discuss various aspects about fishing. Along with his podcast, he's also the host of Reel Animals Saturday on AM970 WFLA radio in Tampa from 6 to 8 a.m. every Saturday morning and the Co-Host of the TA Mahoney Co. Reel Animals Radio show on AM620 WDAE in Tampa on Sunday mornings from 7 to 9 a.m.
Captain Mike is also the Host of the Reel Animals Fishing Show TV version which airs in 105 million households nationally and in Canada on Tuff TV, WMOR- Tampa, World Fishing Network and Fox/Sun Sports. Capt. Mike also hosts a monthly "Fishing Conversation" at Gator Ford in Tampa which occurs the second Tuesday of every month. Averaging over 100 guests a month. He now hosts the Reel Animals Boat Show & Fishing Expo as well a 3 day event held at the Florida State Fairgrounds every November.
The Reel Animals Podcast is available on Apple Podcasts, Stitcher, Google Play and TuneIn.